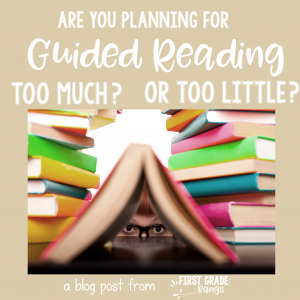 Are you getting your students ready for guided reading? I am, too! We are still a week or so away from getting groups started in my classroom. I have been busy teaching the independent activities for literacy centers, testing students to determine reading levels and skills needs, and all the while, the kiddos are busy working on building up their reading stamina. We're ALMOST there. 🙂
The other day, I was reflecting on starting up guided reading, and I flashed back to how stressful guided reading used to be for me. Maybe you can relate.
Guided Reading- Are you planning TOO MUCH? Or TOO LITTLE?
See, in the past, I usually ran into two problems when I was planning for guided reading:
1. I spent TOO MUCH time planning
OR I felt overwhelmed and then…
2. I didn't spend ENOUGH time planning.
Can you relate to either of these?
Too Much Planning
Years ago, I would invest the time I thought I needed to devote to planning every little aspect of guided reading for all 5 of my groups for every single day of instruction, allowing for each student's needs. It was exhausting. I was finding myself at school doing said lesson planning until 6 pm at school some nights. Crazy! I know I'm not alone, but still.
Not a great situation. Not nearly enough time with my family, and I felt like I was losing my mind. 🙁
too little planning
Eventually, I burned out and decided to take a step back from all of the hyper-detailed planning. I thought I would try out the provided plans included with each book in our series.  After all, those publishers are the experts, right?  I quickly picked out books on Monday that covered the levels of my groups, and I tried to "wing it". As the students read the book, I scanned the plans and pulled out what I felt fit my students.
Sure, each book had a different focus than I thought naturally seemed to emerge while reading the book, but I thought the publishers must surely know more than I did. And the discussion questions provided in the plans (or thought up by me on the spur of the moment)? Oh my, those were really lame. No depth. No purpose. Just superficial questions asking for quick, easy answers. And while I was scanning those plans, was I really listening to my students read? Of course not. I was only half-listening and half-figuring out what I was going to say when they were done reading. So no good teaching points emerged during this time. I was too busy trying to plan on the fly. 
Not good for my students, and not good for my self-esteem as a teacher. 🙁
help!  I need a better plan!
I tell you how this felt. It felt like I was feeding my family cereal for dinner. Acceptable in an emergency situation, but not at all ideal- not what was best for them or for me. Let's take this metaphor a little further….what I really wanted was a way to give my family a healthy, well-rounded meal that met their dietary needs, while not killing myself menu-planning, grocery shopping, and preparing meals. I needed a better plan. A quicker plan. A Blue Apron-style plan….one that arrived at my door and took 30 minutes or less to cook. Sounds good, right?
And that's how Stress-Free Guided Reading was born.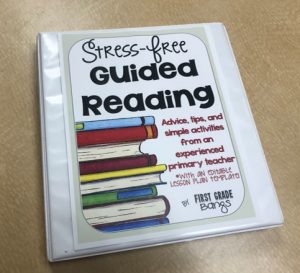 Now I have an overarching plan for guided reading. I know what my focus will be, which books are best for teaching each skill, and the word work activities that naturally fit with each book. I know how to adapt my questioning to match each topic I'm teaching, and I can use the books multiple times for multiple topics. Multi-tasking at its best!
Does it mean I don't plan? Of course not.
It means I plan quickly and efficiently. And once I type out those plans, I print them out and save them for next year, so maybe, just MAYBE, I can save a few minutes in the future.
Now I spend less than 30 minutes planning my guided reading lessons EACH WEEK and I re-use those plans as often as I can. I choose quality literature to teach comprehension skills WITH DEPTH and my students are growing leaps-and-bounds farther than my students of the past. 
And all of this is free.
Sure, it costs me a few minutes each week planning, but like I said, it is totally worth it.
Worth it for my students because they learn SO much more during each guided reading session with me.
Worth it for me because I can re-use those plans another time with another group to get the same results.
And I finally feel like I am a worthy teacher- I am giving my students what they need to grow up big and strong as readers and thinkers.
If this sounds good to you, click below to download the Stress-Free Guided Reading freebie and I will walk you through the details of the Stress-Free Guided Reading system.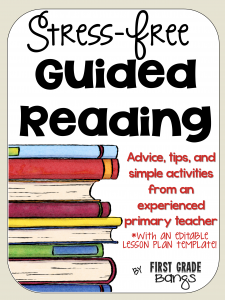 Want to read more about Stress-Free Guided Reading? Click the titles below to go straight to those blog posts and get more info.
What is Stress-Free Guided Reading?
6 Easy Steps to Guided Reading Lesson Planning FOR THE YEAR
Or these related posts:
16 Insanely Simple Word Work Tricks You Need To Know
Step by Step Instructions for Getting Centers Started
5 Simple Steps for Successful Literacy Centers
Until then, keep loving on those kiddos and keep your head up!
Your friend in the trenches,