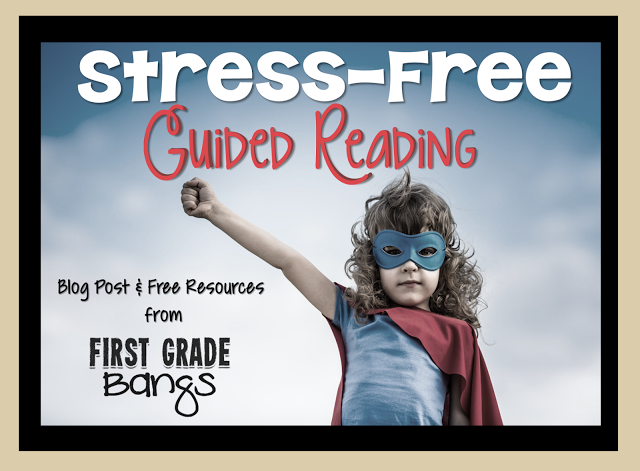 Is guided reading stressful to you?  Are you unsure what you should be doing on a weekly or daily basis with your young readers?  Don't stress out!  I am going to give you some simple steps to make your guided reading time meaningful, intentional, and easy to plan!
A little disclaimer- I do not claim to be an expert in guided reading. I am just a primary teacher who has learned through much research, professional development, and good old-fashioned trial and error. 
The end result is the best way I have found to teach 
young students to read in a small group setting.
Stress-Free Guided Reading
My key to being Stress-Free is two-fold:
Keep Things Simple  
&  
 Plan Ahead
Not exactly rocket science, I know, but hear me out- following these easy steps will guarantee to make your life easier when it comes to guided reading! 
And stress-free is how I want to be….how about you?!?

Keys to Stress-Free Guided Reading :
#1  Keep Things Simple
Have a simple schedule for meeting with your groups on a regular basis, and stick to it.




I meet with all of my groups each day, 5 days a week.  Guided reading is simply one of the stations in our daily literacy center rotation, as outlined in my post here.
If you choose to set up your guided reading in a different manner, please, please, PLEASE make sure you are meeting with any student who is reading below grade level on a daily basis.  That should be non-negotiable.


Have a routine for your time together.




If kids know what to expect, you can save a lot of hassle, and your students will transition quickly from one thing to another.
Each group in my class follows the same routine, depending on the level of difficulty of text they are reading.  We spend about 15-17 minutes together.
Here is what my book routines look like:


You might have noticed I didn't put a warm-up read in my plans. Read this post to find out how my students warm-up in the Fluency Center before coming to guided reading.
Use simple tools and have them handy.
Choose only tools that can be used over and over and with a variety of levels.
Here is what I keep in my drawers 
next to my guided reading table:
whiteboards & Expo markers
12×18 white construction paper
pencils, markers, & crayons
students' Reading Journals for Reader's Response
files of Reader's Response exit tickets already copied and sliced for all topics 

Keys to Stress-Free Guided Reading:
#2  Plan Ahead
This doesn't have to be hard.
And it doesn't need to take long, I promise.
I used to spend HOURS planning for my groups, but I have found that it is just not necessary to do that!
Don't get me wrong- you will definitely need to plan. 
Just use these 4 easy steps:


Plan Your Purpose
I always try to continue the focus of our Reader's Workshop mini-lessons in the guided reading groups, when possible.  If we are learning about problem/solution during our whole group mini-lesson, continuing that focus in the small group really helps cement the concept for them.  They are practicing at an individual level what we have been practicing with our whole group read-alouds.
This step seriously only takes like 10 seconds. 
Choose Your Texts
The bulk of your planning time for each group should be in the text selection–
make sure you are choosing quality texts for each group that are not only the correct reading level, but also neatly fit into your purpose for them. 
Keeping your text selection very intentional is vital to quality instruction.  Everything else will fall into place if you have the right text.
I know that many guided reading sets have lesson plans that go along with them, but you should be very careful here.  Maybe it is just me, but I have rarely found that those lessons line up with my vision for teaching a text.  Definitely check it out for ideas, but think carefully about what YOU want your readers to gain from a text.
So when I am searching for books for each group, I am usually looking for books that would be great to teach that specific skill.
Let's use Problem/Solution as an example.  And let's say my groups are currently working on reading at the following levels:  D, F, G, I, K
I'm simply going to search through my collections of guided readers for books at those levels until I find quality texts that really teach problem and solution well- they either have an obvious problem/solution, OR for my higher students, I might want a text that requires them to dig a little deeper to find the problem/solution.
That's it.  Book selection done! 
Now, let's get serious- I'm also going to be smart and write down the titles so next year when we are working on problem/solution again, I will already have my go-to texts identified for guided reading at those levels.
Read the Book!
This should be obvious, but I can't tell you how often I used to try to just pull a book to the table and think up questions while the kids were reading. Seriously, take a quick minute and read the book.  You'll be glad you did.  And your kids deserve it.
This step takes about 30-60 seconds.
Choose Your Questions
Think up a few lower-level questions and a few higher-level questions to go with the book.  Write them down.  That's it!
Remember, lower-level questions can be answered straight from the text.  Higher-level questions require more synthesis and inferencing, and the answers can sometimes be found in the pictures.
Since I connect my guided reading focus with our Reader's Workshop focus, I also have a set of Purposeful Question-Starters ready to go for each RW unit.  This helps me speed through this step… easy peasy! 
This step might take as little as 1-2 minutes once you get the hang of it.
If you would like to see more about guided reading and/or my RW units, make sure you sign up here so I can send you more freebies straight to your inbox!

You might be thinking….whoa, whoa, whoa. 
What about Word Work? 
What about Reader's Response?


Don't I need to plan for those?
I keep a list of word work options and reader's response options at my guided reading table and choose from those while we are working.
I find it helps me be responsive to my students' needs and the needs of the text. Not to mention, it saves a lot of time with the whole planning thing.
Let's say I am listening to my students read and they are all stumbling over the same 2 tricky words.  What am I going to use for our Word Work, then?  Well, obviously those 2 words!  It just makes sense.
And, don't forget- I have all of my tools for all of the word work activities RIGHT THERE by my table, so I can enjoy the flexibility of my last-minute choices.
As for the Reader's Response Activity, I find it most helpful to think about how each particular group responds best (maybe they all need practice with sentence writing) or maybe we have done the same activity the last few times so it is time to mix it up! 
Now, if I had meticulously planned out our Word Work or Reader's Response for those books, I might have missed out on the chance to really differentiate for my students.
So these little lists work great for me.
A comprehensive list of all the Word Work and Reader's Response activities I use are included in my freebie,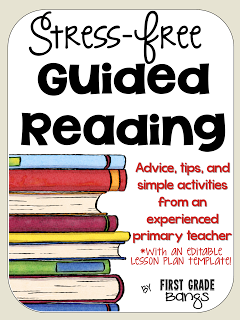 I hope you have found this (not-so) little post to be helpful!  I would love to hear your comments on this topic.  I absolutely adore getting to know my readers!!!

P.S. If you are looking for some great, free, quality PD on guided reading, I strongly recommend checking out Jen Jones' Hello Literacy Facebook Live series on Guided Reading here and the guided reading videos on the Clemson University/Reading Recovery webpage here!