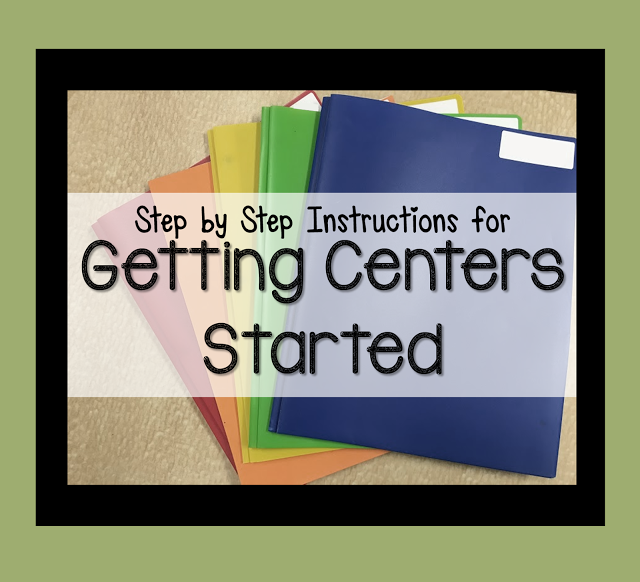 A new school year brings us fresh new learners and fresh new challenges. I've already laid out my case for using literacy centers in your classroom, but if you haven't tried it yet, go back and read
this post.
Teaching students how to complete centers in your classroom requires careful planning, training, and lots of practice, much like everything else at the beginning of the year! We practice everything from coming to the carpet to lining up for dismissal, so it makes sense that something as complex as our center rotation would require lots of practice.
Like most of you, I always start the year off with everything being whole group while I teach routines and procedures. After the first week or so, though, we are ready to start getting ready for centers. Notice I did not say we were READY for centers, just ready to get ready.
Independent Reading Center
From Day One, we are practicing building our reading stamina. I tell the students that our goal is to be able to read at least 20 minutes consistently so I will know they are ready for centers. I hold this "carrot" out for them because
1) I know they are excited to start centers,
2) it sets up a reasonable goal for them to strive for, and
3) they really do need to be able to read independently for 20 minutes, since that is our typical length of each center.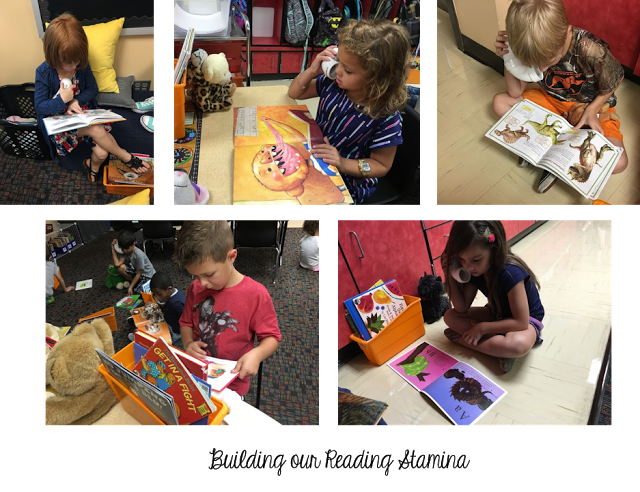 While they are working on building up that stamina, even with a mini-lesson, our Reader's Workshop time does not take up its full time slot in our schedule, so that gives us a little wiggle room for adding some early center practice.
By the second full week, we have started our phonics unit (we always start off with a simple review of short vowels using Chunky Monkey's Short Vowel Unit). Most students remember short vowels from kindergarten, so it is more about learning the different facets of our phonics lessons than about learning a new sound. Of course, there are those students who really need a good, solid review of the short vowels since they didn't completely master them the first time around. So I've found this to be a great way to accomplish both goals at once.
Since our phonics units are the same as the spelling patterns they learn each week, we start practicing our spelling centers first.
Literacy Centers will eventually involve student choice, but not at first. I want all students to know how to complete each activity correctly initially.
So my tables of students remain static- everyone stays at their own spot while we practice simple word work centers like Disappearing Spelling Words, Letter Tiles, Dough Words, White Board Spelling, Letter Stamps, and Spelling Games.
We review the expectations for each activity and students get time each day to try out one or two centers while they practice their spelling words for the week. I simply move the activities from table to table each day so each student practices each center activity.
We practice reading One Breath Boxes and Fluency Phrases with partners as part of our beginning phonics practice, and we learn how to build the poem in our Pocket Chart whole group. All of these activities will be completed in the Fluency Center once Literacy Centers begin in earnest, saving valuable instruction time for other aspects of phonics and reading.
The Listening Station is also part of our Fluency Center (we are listening to fluent reading), and that takes at least one whole-group mini-lesson to introduce the concept of cassette tapes and CD's! I do not yet have iPads or iPods in my classroom for students to use, so I have to rely on my stash of old school listening centers from years past! Hey, I consider it a valuable history lesson for my kiddos. Ha!
This center needs less prep time than the others as far as introducing the different center options, but we do practice each activity during a Writer's Workshop session, so they understand the expectations for first grade quality work in this center. We practice such activities as Author's Choice (little blank mini-books they can use to create any book they want), Vocabulary Writing, Four Square, and List Writing.
By the time we've practiced all of these centers, it is usually the end of the 4th week of school. The students are almost always reading for 20 minutes at a stretch, so we are ready to learn how to rotate centers.
I group my students into their guided reading groups, then give them folders to match their group's color.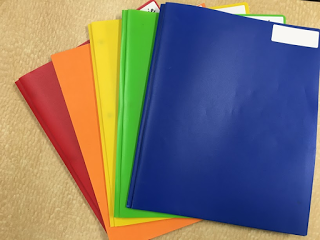 Each group starts in the same center every day and follows a set rotation around the room designed to maximize efficiency and learning (see my previous blog post about our rotations here). Each group visits each center every day.
Before starting, we review the expectations of centers.
Here are the expectations for literacy centers in my classroom:
After reviewing the expectations, I pass out our Center Recording Sheets and teach the students how to use them. I have them write our weekly spelling words and high frequency words on the page so they are always handy for practice or review in centers.
During the first week of Center Training, students do not have a choice in their centers, so we go ahead and mark the centers together each day before starting rotations.
I show them the activity they will be doing in Word Work and Writing, how it correlates with the picture on the drawer it is stored in, and where to find the matching picture on their recording sheet.
We then mark it with the initial of the day (M for Monday, etc.). This is helping them practice marking which center they do each day, which is important information for me once they start making their own center choices.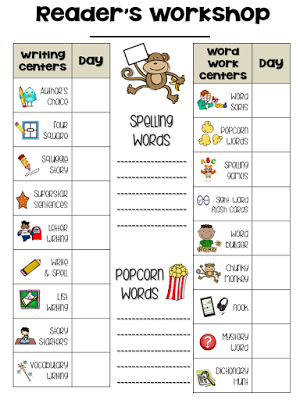 Next, they are off to their first center and we get started. We rehearse different voice levels and agree which ones are appropriate for which center. We usually like Level 1 whispers for Fluency Center, Level 2 soft table voices for Guided Reading and Word Work (only since they have a teacher at those tables working with students- normally Word Work is Level 0). Writing and Independent Reading need to be Level 0 to help students focus and concentrate on their literacy activities.
While students start enjoying their assigned activities, I have a group at the guided reading table.
Instead of diving into guided reading, I usually take the first wee
k to play simple games with students we will use for word work activities- word sorts, sound boxes, etc.
The reason for this is two-fold:
1) these activities will be easier and take less time if they are familiar to the students in the near future, and

2) I really need to have my focus on the WHOLE classroom to monitor how students are doing in all of the centers.

It is important to catch off-task behavior early and nip it in the bud so it doesn't become contagious and accepted.
After about 10-15 minutes, I buzz our timer and we practice cleaning up quickly and standing at our centers until everyone is ready to switch. I like to pass out pirate coins (our school's token reward system since we are the Pirates!) to the group or groups who cleaned up exceptionally well. This sets the bar high and groups quickly know what is expected of them.
To make sure they know where they are going next, I ask each group to point to their next center (we rotate in a circular pattern around the room), then it is time to SWITCH!
Join me next time for more details about Guided Reading- I will even have a freebie for you! You don't want to miss it!