Hi friends! This week's
Building Back to School linky party's topic is Reading Tools. Thanks for
joining me!

I have been obsessed with Close Reading this past year.
Why?
Because I have been working without a reading curriculum, that's
why!
You see, my first grade team all
used a basal series when I started teaching first grade 5 years ago.
An out-of-date basal series.
I did, too, for the first two years while I
was learning the ropes.
My principal,
though, kept urging me to try giving up the basal and using newer best
practices for teaching reading.
School-wide, we were already adding Guided Reading and Reader's Workshop
for teaching comprehension strategies.
The theory was that these two areas should cover all of my students'
reading needs.
I decided to give it a
shot, and jumped in with both feet.
It became quickly apparent that my students needed two more
elements to round out their reading program. We needed a phonics program and we needed a
solid, strategic plan to deal with complex text, preferably using a common
story. I knew it was important for all my students to be exposed to grade level
(or even a little higher) text and learn some strategies for navigating it.
After
a frustrated search for a phonics program that made sense to me (and my
firsties), I finally decided to create my own.
Voila! The Chunky Monkey First Grade Phonics program was born. I spent a full year working on that program
(and am happy to say it is DONE! Now I am working on matching spelling units/activities).
Click
here to check those units out.

Same
thing with Close Reading- I bought and tried out many close reading products
from wonderful TPT sellers, but I felt like something was missing.
My students weren't really engaged in the
text and only having a couple of writing activities to go with each story didn't
seem like enough time with the text (not to mention my kids didn't enjoy that
much just plain writing).
After mulling
it over for a few months, I finally came up with a plan.
My
vision was for a week's worth of activities to go with each story. Interactive activities. Drawing and making connections and vocabulary
and cutting and gluing and tracing and more illustrating and writing and lots and
lots of highlighting. THAT might have a shot at keeping my first graders
engaged in the text and willing to keep going back to it. Also, I knew it would take at least 4 or 5
days for most students to become fluent in the complex text, and that was
important to me. They should be able to
fully understand and independently READ the text by the time they are done
close reading, shouldn't they?
I
created the template for my vision and wrote 4 stories for the spring. I test-piloted them with my students and
GUESS WHAT??? They loved them! They enjoyed each day's activities and
fluently read the text by the end of the week. After just a few weeks, they
knew exactly how to go back into the text to highlight text evidence for their
answers and how to use surrounding text to figure out the meaning of unknown
words. They AMAZED me.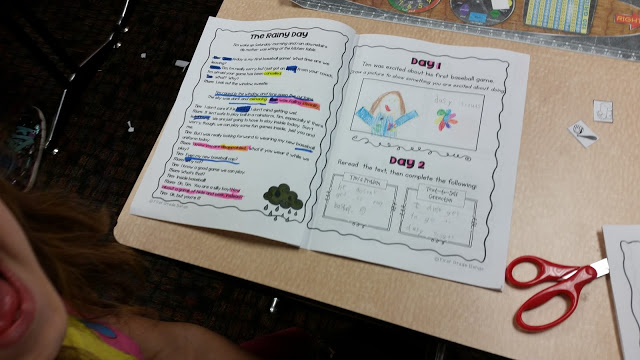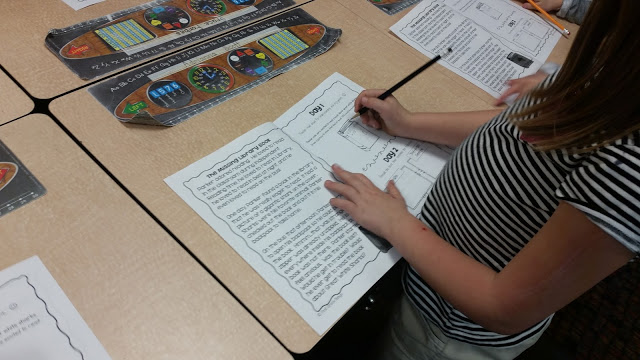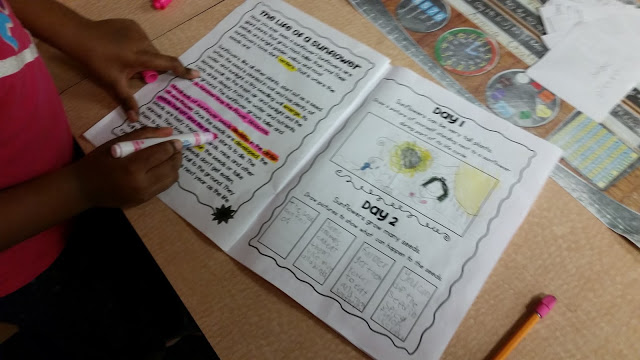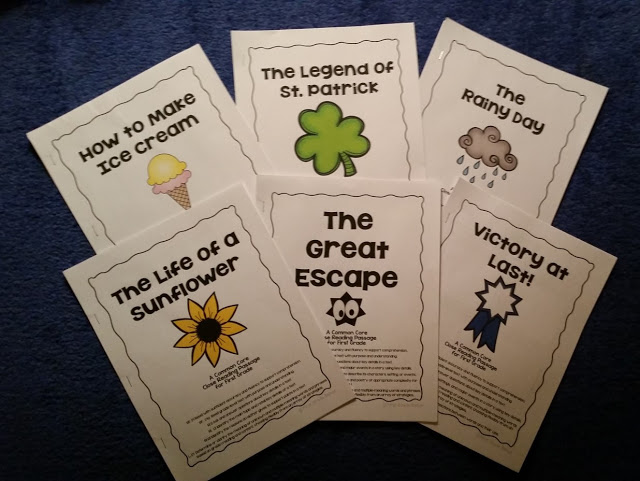 The
students' favorite part each week?
Hands
down, it was getting to use the different colored highlighters!
I created these labels to go with the series,
and they have been very popular.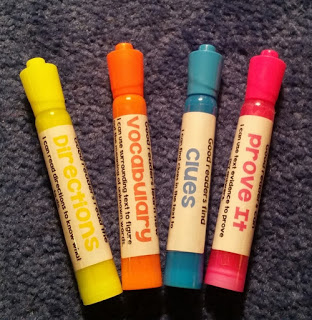 I didn't have enough highlighters for each
student, though, so many had to use markers.
I solved that this summer by picking up 3 or 4 packs of highlighters
every time I went to Wal-Mart. Now I
have enough for every student to have a set of 4 colors when we read closely!
This
summer I finished the spring set of first grade stories and wrote a set for the
fall. I am almost finished with a fall set
for second grade, as well. Each set has
6 weeks of Common Core aligned close reading stories and daily activities that follow seasonally appropriate
topics. Each set includes 3 fiction
stories and 3 non-fiction stories (one biography, one how-to, and one
informational text).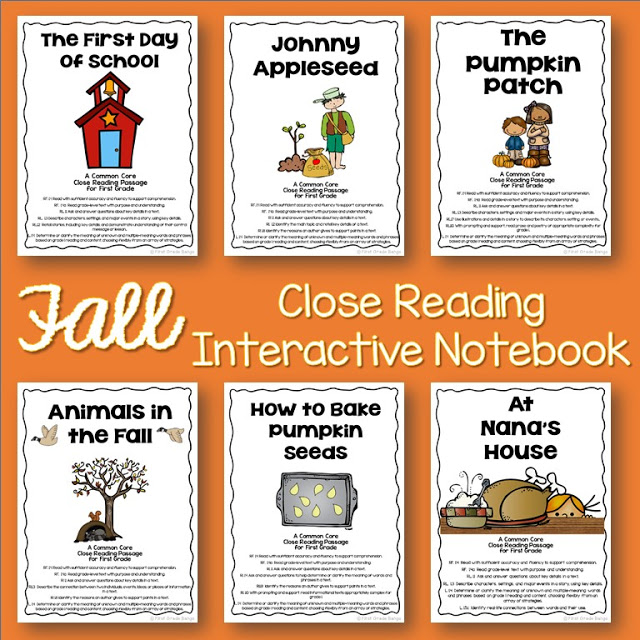 Would
you like to try one out? I have a
freebie week for you to try with your students! Just click on the cover.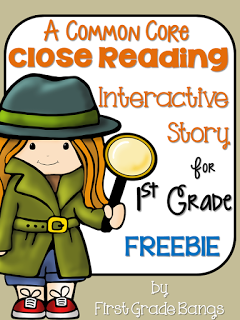 The
highlighter labels are also a freebie….many upper elementary teachers have been
using them for standardized test prep, which is genius (but not really on my
radar, PTL).
Click
here to download those.
This
week I will be giving away a FULL YEAR of my Close Reading Interactive Stories
(Fall, Spring, and Winter- which is not finished but will be!). Just enter the Rafflecopter below!
Thanks
so much for stopping by!
Special thanks to Whimsy Workshop for the detective clipart, KPM Doodles for Chunky Monkey, and KG Fonts!