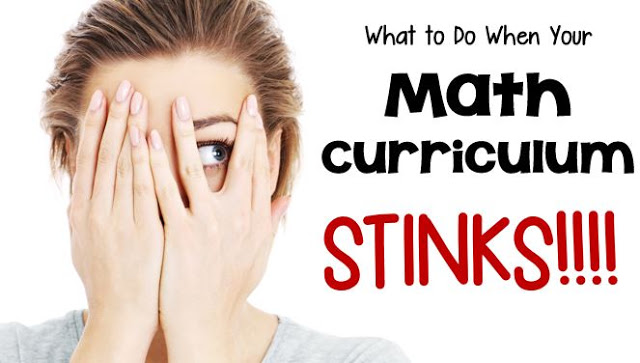 Maybe your district handed you a big box math curriculum that you don't love.
Does it meet the needs of all of your students?
Definitely not.
Was it designed by so called "experts" who apparently have never met a first grader
? OMG
…
YEEEESSSSSS.
Or maybe you are still using curriculum that is old and outdated and does not meet today's standards.
Or maybe you don't HAVE a cohesive math curriculum…maybe you are just trying to piece together a mishmash of resources to cover the standards.
Well, friend, I've BEEN THERE and DONE THAT.
For all 3 of those scenarios! 
Today I'm going to offer you a few helpful suggestions for what to do when your math curriculum just plain STINKS
Use it, anyway.  Go ahead and follow your district mandates for using the required parts of your boxed curriculum. 
1. It may be easy for you because everything is ready to go or you only need to open the teacher's guide each day and read from it to teach the lesson.
2. The units and skills are most likely vertically aligned and may include some sort of spiral review that is convenient.  Nice!
1. It's not what is best for kids. Ugh.
This might be something you feel in your gut, or you may have data and research to support this feeling,
but you know it is there.
2. Too many workbook pages, not enough explicit teaching, and lack of small group and center resources are,
unfortunately, hallmarks of most of the big boxed curriculum out there. 
You don't have what you need to teach the material WELL.
3. Your students aren't enjoying math.  At all.  
Y
ou hear groans when it is time for math. 
It breaks your heart a little, but what can you do?
1. There are a lot of terrific resources out there (many of them created by teachers) that you can add to your math block to help fill in the holes left by the boxed curriculum. 
2. You can find fun, engaging activities that help your students enjoy math a little more.
3. You may already have some of these purchased and created in your classroom. Score!
(Why this still isn't best for kids)
1. Lack of a cohesive plan for meeting the standards usually means something is not getting covered well.  And since these primary years set the foundations for mathematical understandings down the line, that can be very worrisome.
2. It takes a LOT of time and effort to research the standards fully and make sure they are all being taught in a comprehensive way, especially when you consider differentiating for your students.  
Do you really have everything covered? 
You can throw it out and do your own thing.
(Why this may just be what is best for kids)
1. You know your students better than anyone, especially a curriculum writer that designs materials for K-12.  How much does that person really understand about a first grader and how they learn and what gets them excited about math?
2. Vertical alignment is already built into the CCSS.  Students need to master this year's standards to be well prepared for the following year. So as long as you know the standards inside and out, and you cover them completely, you can rest easy knowing you've got this covered. Phew!
3. There are so many different ways to connect with students and engage them in the world of mathematics!  If you have the freedom to design your own system, wouldn't you include lots of hands-on experiences, small group interventions and extensions, fun ways for the class to review, etc.? 
Wouldn't it be great to incorporate those types of activities instead of the same old thing every day?
1. You will need to spend a LOT of time researching and creating materials that will engage your students.  Maybe you have time for this, and maybe you don't.
 Maybe the thought of spending that much time and effort on more classroom work makes you want to cry.  
What about your family time?
What about that summer vacation you so desperately need?
2. You will need to purchase (or somehow acquire) a complete curriculum created by someone who knows the standards inside and out and has loads of experience working with primary students.
Ultimately, though, it is up to you.  
You might be told what you need to teach, but you make the decisions about HOW to teach it. 
You are the grade-level expert.
You are the one who knows your students best. 
And you are the one who is ultimately responsible for their learning.
HERE IS WHAT YOU NEED TO KEEP IN MIND, 
NO MATTER WHICH METHOD YOU CHOOSE:
Make sure you are meeting the standards.
As primary teachers, we HAVE to teach the foundational skills really, really well.  That's our job.

HAVHAV
Ensure that you are meeting your students' mathematical needs WHERE THEY ARE. 
Yes, you need to differentiat
e.
This is best done in small groups and independent work.
Do your small group work, centers, and independent practice offer easy differentiation? 
Or is it still up to you to figure out how to meet everyone's needs?
Find ways to incorporate some spiral review so that students remember skills
they were taught a month or two ago.
Working hard to learn a skill and then failing to connect it to later learning or forgetting the skill entirely is not productive.  Students need to continue to practice skills long after they have supposedly mastered them. 
As a primary teacher, you know this! 
Teaching math doesn't have to be hard.  Or painful.
It CAN be fun, engaging, exciting, and empowering if you know what you are doing! 
and I would LOVE to help you on this journey!
You are not alone….we are in this together!

Save