How is the beginning of the school year treating you?   Are you as dog-tired as I am at the end of the day?  Like the saying goes,
There ain't no tired like beginning of the year teacher tired!
Well, tired or not, we have things to do and munchkins to teach, so….
Let's chat about math at the beginning of the year….specifically, 
Addition to 10
.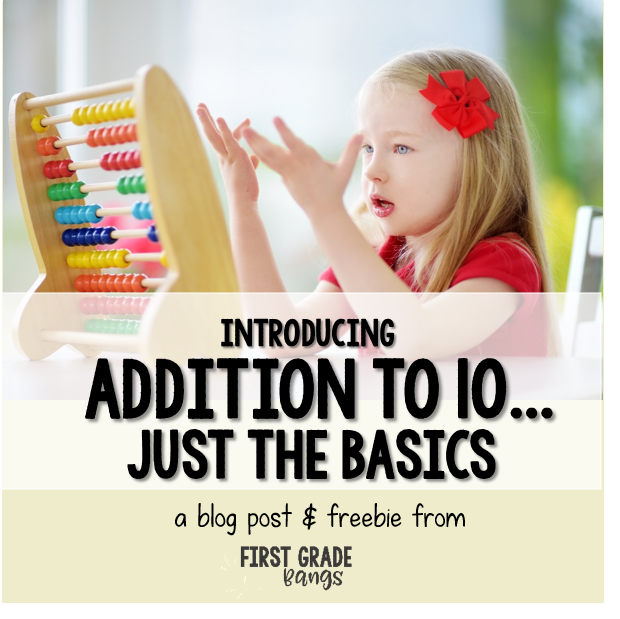 It's the beginning of the year, and I am still working on setting up procedures, routines, and expectations with the kiddos, all the while trying to get a handle on where they are academically.
Like most years, I am finding that most of my kiddos have a good handle on the kindergarten standards, but some dislike math, a few are still unsure how many fingers they have, and several have a really advanced understanding and enthusiasm for math.
Phew!  Where do I start!?!
Well, we start at the beginning, my friend.
The first grade Common Core standards we cover in this topic are pretty straightforward, and covered in an introductory and abbreviated manner:
1.OA.A.1 
Use addition and subtraction within 20 to solve word problems 
1.OA.B.3 
Apply properties of operations as strategies to add and subtract
.
(commutative and associative properties)
1.OA.C.5 Relate counting to addition and subtraction. (counting on)
1.OA.C.6 
Add
and subtract within 20, demonstrating fluency for addition and subtraction within 10
.
(using strategies)
* the underlined words and descriptions in parentheses are my own description and emphasis
Now, when I say we cover these standards in an abbreviated manner, I mean that the standards that cover addition also cover subtraction, the relationship between the two, and lots of rigorous concepts like missing addends, making 10 to add, solving word problems that compare numbers, etc.
It can be a bit overwhelming, but don't worry!  We have the whole year to get there.
As teachers, we know that the best way to teach primary students is one step at a time.  I've found that many of the Common Core math resources my district provides tend to throw the kids in the deep end and think that they will figure out how to swim.
That doesn't work for me.  Or my kiddos.
I prefer to help them learn to love math first, then teach them the beginning basics. 
We gradually scaffold through the year and build upon our mathematical understandings as we go.  Are my kiddos capable of mastering all of the rigorous Common Core math standards?
I answer that with a resounding YES!!!!
…….just not all of them in September, thank you very much.
Here is how a typical lesson goes in my classroom: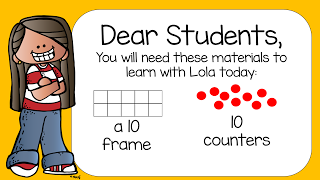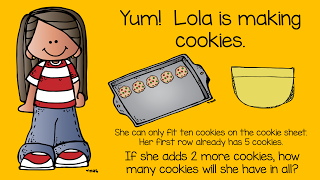 First, we start with one of Lola's PowerPoint lessons on the SMART Board.  Students work with cubes and number bonds mats, ten frames and counters, and white boards at their desks. They follow Lola's directions and help her solve problems. The lessons are very interactive and engaging, and the kids really get a kick out of making connections with Lola and her pets, friends, and favorite activities.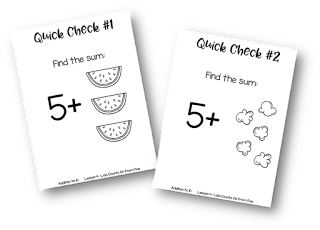 When the lesson is over, I hold up a Quick Check and students answer it on their whiteboards.  I make a mental note of who is struggling,
 and then show the second Quick Check.  Once we are done with this simple assessment strategy, I know who has a good grasp of today's concept and who may need some small group intervention.
As a first grade teacher, one of my goals is to get students to move from being able to do math hands-on to being able to do it on paper in a more abstract, symbolic format.  By checking for understanding, I know who is ready for the paper practice, and who still needs some more hands-on practice.
Being a teacher requires a good understanding of the material AND your students.  I like to make a few different sets of copies for my class.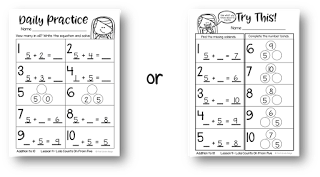 Some will get the Daily Practice page, some will get the Try This! enrichment page, and some may get both on a double-sided sheet.  The kiddos I work with at my table will start with hands-on and hopefully be able to finish the lesson with the Daily Practice Page. 
If they are ready for it.
What I don't want to do is push kids too fast, too soon.  I've seen what it does to their mathematical understandings and their confidence in general, and I have to say, I am a much bigger fan of taking baby steps when necessary.  You won't find me throwing anyone in the deep end. 
When students are finished with their paper practice, they can choose a math center to continue to practice the addition standards we are covering.  I also provide scaffolded enrichment lessons for small groups so I can stretch the minds of those high flyers… I don't meet with them every day, but I do try to catch them about two or three times a week.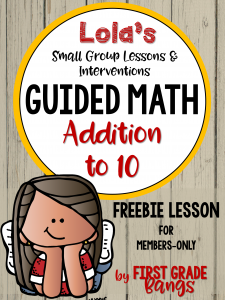 Check out this complete math lesson!  I am giving you the Lola PPT lesson for whole group, two quick checks, two practice pages (on-level and enrichment), and scaffolded small group plans your students will love! Just click on the picture above and tell me where to send it!. 🙂
Have a terrific September!  I'll be back in another week or so to talk about Subtraction from 10…
Until then, may your days be filled with fun and joy and your coffee be stronger than your energetic kiddos.
J