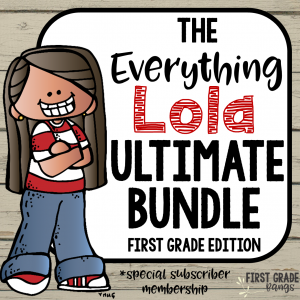 This is an 8-month subscription service to receive EVERYTHING for 1st Grade Lola Math.  You name it, it's in here!  Each month, you will receive a link to a new Google Drive folder containing 4-6 weeks of the following:
*daily PowerPoint whole group lessons
*daily practice & enrichment pages
*daily small group intervention activities for strugglers
*unit assessments (with answer keys)
*unit enrichment activities for small groups
*math centers & digital games for each unit
*daily math challenge & spiral review slides
…and so much more!  Anytime I update products or create something new for Lola 1st Grade, it will appear in your Google Drive folder!  Totally free upgrades, and you OWN them for life!
Over the course of the subscription, you will also receive Lola's Number Sense centers (for numbers 5-20) and the accompanying digital assessments.
CLICK HERE to download a pdf showing you specifics of what you'll receive each month.
**To play all of the amazing digital resources, you will need to agree to a free 1-year trial of Boom Learning and will need to purchase a Quiz Review Game Format from Pink Cat Studio ($9.99). Totally worth it, though, I think you'll agree!  Your students will LOVE these engaging games!
There are two ways to shop:
Purchase an 8-month subscription to save over 60% and get EVERYTHING Lola for 1st Grade
(just click the red "BUY NOW" button)

OR
Click on each unit below to check them out on TeachersPayTeachers!